Cash for Junk Cars Fast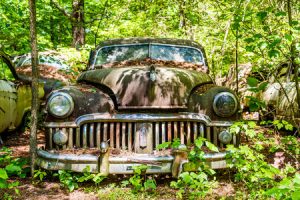 Junk cars can be anything from an old car that's an eyesore, which has sat in your driveway too long, to a no longer useful, wrecked, or broken car. It's easier than you think to recycle your junk car.
310 Cash for Cars can help you get back a needed parking space and put some green stuff in your wallet. We buy junk cars all over Los Angeles, the San Fernando Valley, and the West Side. We make it easy.  Any day, evening, and weekend. Folks like how we treat them and their old car.
Call or click free buy junk car quote
Scrapping Old Cars
The sad thing is older gas-guzzling cars that aren't classic and are out of vogue. Even if the parts from these whales are clean, there are so few of the gas-guzzling beasts on the road that the parts don't really have resale value. Older domestic cars are usually more useful for their metal content as scrap value. Currently, scrap metal prices are low nationally, but we can help.
We'll Help You Find a Buyer
If your big old junk car is not for us, we'll refer you to a company near you, that buys junk cars.  310 Cash for Cars has great relationships with car salvage companies in Southern California.  If your car doesn't fit our buying needs, we'll help find you a company to buy your car.  That's because we want you to make one phone call.  To us.
Junk Vehicle Recycling in Los Angeles
Some junk cars are recycled. The junk vehicle recycling process can benefit the environment as well as create local employment. Our junk car removal process utilizes scrap recyclers right here in Los Angeles.  Our clean, reliable tow trucks and drivers are insured and licensed. The drivers are careful about your property, as well as being efficient at removing junk vehicles. We make it go right.
Your old car has a flat tire or crashed
We tow away disabled and damaged cars after a collision. If a car will not drive, having the correct equipment to move the vehicle safely is part of what our professionals do. We tow from impound yards, underground parking lots, and behind barns. Please let us know what your needs and questions are, we are more than happy to try to help you.
We Buy Cash for Junk Cars Fast