Local Junk Car Removal in North Hollywood
Disabled or unwanted vehicles become an eyesore to their owners. In this case, they only want to eliminate those motors from their properties. Travelling motors consume ample space in the backyards, driveways, and garages. We observe that many people keep their useless vehicles for years because they don't know the right procedure to dispose of them. Our company helps people who want to sell scrap metal hunks.
The process is very simple and convenient. Quickly dial our contact number and talk to a customer representative. We are delivering insured and bonded local junk car removal in North Hollywood. Contact us today, and we will haul your old vehicle to a recycling yard and give top dollar cash for it on the spot!
How to Sell Your Disabled Vehicles in North Hollywood?
Now it is effortless to sell any type of automobile to a trustworthy dealer. Call us, and we will dispatch a team to the client's location.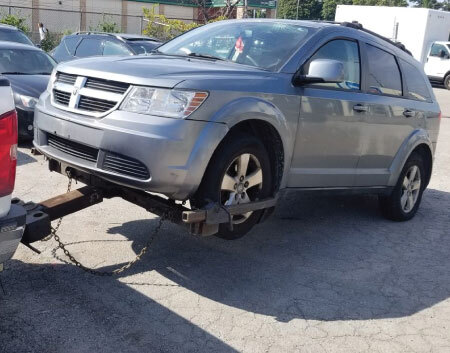 This team will consist of a tow truck driver, two loaders, and a company buyer that inspect the motor and give the cash amount to the owner's hand. Anyone who wants to earn some money can contact us. Our dealer will give instant cost estimates just by knowing the essential details about auto.
Let us know the type, make, year, and model of an auto and the exact location where it is parked. Our junk car removal team will reach the location on the same day. Do not trust any random person or an unregistered yard. Only select a registered one that will ensure everything about the process. If anyone needs local junk car removal in North Hollywood, select this firm to get trustworthy buyers for scraps.
Why Choose 310 Cash for Cars in North Hollywood?
Loyalty, quick service, customer satisfaction, and a good amount of money are the major factors that make any organization successful. Following are the key factors that make us unique in this business:
Trustworthy Buyers
Top Dollar Cash
Free Pickup
Safe Towing
Same-Day Service
Best Recycling Yard
Trustworthy Buyers
Any organization becomes successful when they get the trust of its clients by giving the most loyal services. We are proud that our firm provides trustworthy contractors that offer local junk car removal in North Hollywood. Whether anyone has an old or unattractive Honda, BMW, SUV, minivan, jeep, motorcycle, or any type of vehicle, our recycling yard will purchase everything for cash. Contact us today and watch how quickly we will help owners to get rid of their scrap automobiles. If anyone wants to sell a car for scrap, dial the mentioned number right now to get a free cost estimate from us.
Top Dollar Cash
In North Hollywood, only this organization provides a good amount of cash for local junk car removal in North Hollywood. This service helps people when they need extra money in critical situations, in ups and downs. Is not it the easiest and most respectful way to get cash by selling scrap vehicles? Do not delay or waste more time searching for scrap dealers. Call us if anyone needs junk car removal near me.
Free Pickup
People hesitate to hire towing companies or dealers to sell their vehicles. They think that this process costs more. So, they prefer to keep motors in the driveways or garages. Do not do this because the more years you keep any vehicle, the more it loses its value. Make a deal with us and get our remarkable local junk car removal in North Hollywood. We are providing free towing services for hauling scrap automobiles in North Hollywood. This firm remains open 24 hours a day and seven days a week.
Safe Towing
Clients can get the safest and quick towing services from us. We have expert drivers and loaders that can perform any task skillfully. They use high-performance tools and equipment while loading wrecked and damaged vehicles. Experts will never damage other property premises while loading unattractive traveling motors. Do not hesitate to call here to get assistance. Employ professionals from this firm to complete the task.
Same-Day Service
In most cases, people make quick decisions and want same-day junk car removal. Suppose a person is moving to a new area in a new house or a new city and wants to get rid of old metal clunkers. In this scenario, a person prefers those service providers that offer quick same-day options. Fortunately, this organization provides same-day assistance with local junk car removal in North Hollywood. Don't waste this chance and ring us a bell.
Best Recycling Yard
We have the best and most fully equipped recycling yards where our professionals dispose of useless, disabled, and scrap traveling motors. Firstly, experts bring all old metal hunks to the yard and remove all the working or damaged parts or other materials of automobiles. After this, they separate the ferrous and non-ferrous metal from the shell using a specialized machine and then flatten it for further use. In this way, they help well-known automotive industries use recycled material to make new vehicle fleets. Those industries can save a large amount of energy and labor expenses by using recycled metals and parts. So, instead of keeping useless motors in the backyard, select us to get assistance.
How To Contact Us?
Follow a very simple process to contact us. If you are landed on our website, just note the contact number on the cell phone and click on the dialing sign. Talk to a customer service representative. He will give you more details about this firm and help you to make a deal with a trustworthy contractor. He will ask a few questions about the type, make, year, and model of the scarp motor and give an instant cost estimate.
You can ask any question about this company's assistance; privacy, terms, and policies. He will try his best to answer every question. After this, a team will arrive at the client's location to collect the junk vehicle, load it on a flatbed tow truck safely, and a dealer will give cash to the owner's hand and leave the place. Do not waste your precious time and contact us for local junk car removal in North Hollywood.